Sherree McKellar starts her morning with a long walk on Kailua Beach. It's her way to get her body moving and clear her mind to prepare for her day. Ever since she lost her husband, James, about four years ago, McKellar has had to go about things on her own.
But although she's alone, she doesn't feel lonely. She has fond memories of her husband and has created a purposeful life painting the things and places in Hawaii that she loves. "My husband left a huge hole in my life and what I've done is fill it up with art," she says.
A retired Hawaii public school teacher, McKellar started painting 12 years ago when she stopped teaching to work for her husband's business and care for her 94-year-old father-in-law. Looking for balance, she took art classes at Ben Franklin Crafts and Windward Community College. She had no previous interest in art, except for seeing how much her mother enjoyed it. "I saw how it enriched her life as she aged," says McKellar.
Then in 2013, McKellar became a caregiver again when her husband was diagnosed with leukemia. This devastating turn of events led to a wonderful discovery of her talents and skills as an artist. "Art was a way to cope with watching my husband of 36 years go downhill," she says. "I'd forget about everything else. It was very healing. I'd play soft music while I painted on my lanai with my dogs at my feet. It was like being in another world."
It was healing for her husband as well. He'd watched her sketch next to him while undergoing chemotherapy. "It kept his mind off the cancer," she says. "And he enjoyed seeing my progress."
After more than two years as her husband's caregiver, McKellar now focuses on her art and paints almost every day. "When I slow down and listen to my soul, all these great ideas come to me," she says.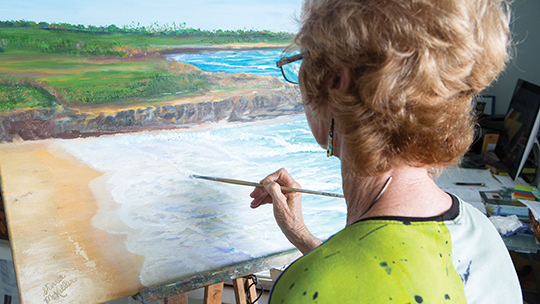 Although she's no longer a caregiver, McKellar continues to give. She uses her Kailua home and studio as a learning space and retreat for a tight-knit community of local painters. It's an opportunity for younger painters to connect with mentors and develop their craft. "I try to fill my home with beautiful, creative energy," she says.
During the holidays, friends and family will ask her to paint portraits of their dogs to give as gifts. She doesn't charge them and if they pay her, she donates part of the money to the Leukemia & Lymphoma Foundation and Wounded Warriors. "I believe we're all here to take care of each other," she says.
McKellar is now working on an exhibit with other artists called "Then and Now," which is scheduled to open in November at Kalapawai Market in Kailua town. The exhibit will feature historic photographs and new paintings of famous Kailua landmarks.
"Creating something beautiful is a healing experience that's good for the soul," she says.
Photos: Earl Yoshii