From active volcanoes to subtropical rainforests and a 400-foot waterfall, you can get up close and personal with some of the most majestic places on Earth here in Hawaii.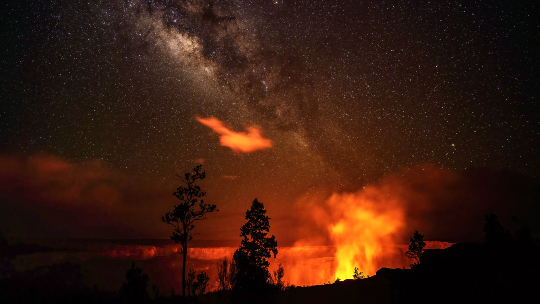 Milky Way over Halemaumau lava lake on Kilauea Volcano. Photo courtesy NPS/Janice Wei
Hawaii is home to eight national parks, including Haleakala on Maui and Hawaii Volcanoes on the Big Island. Both have special events planned for National Park Week, a nine-day celebration of the nation's more than 400 national parks. It kicks off Saturday, April 22.
"It's a time to reflect on what parks mean to us, enjoy what they provide to their visitors and communities, and commit to protecting these places we cherish," says Jin Prugsawan Harlow, the chief of interpretation, education, and volunteers at Haleakala National Park.
Exploring Haleakala
Haleakala means "house of the sun" in Hawaiian. According to legend, it's where demigod Maui lassoed the sun, slowing its descent so there was more time in the day. Sunrise at the Haleakala summit is a top visitor attraction, though visiting any time of day is well worth the experience.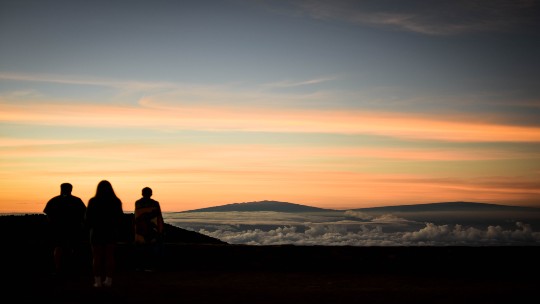 Sunrise over the clouds. Photo courtesy NPS/Jill Peters
At 10,023 feet above sea level, the national park protects a wild volcanic landscape with diverse ecosystems that range from lush rainforests to high alpine deserts. It's split into two districts – the Summit District for bird watching and exploring Haleakala Crater and Kipahulu District for viewpoints of waterfalls, hiking trails, and viewing archaeological sites.
"It's a place so unique that many of its plants and animals aren't found anywhere else," says Prugsawan Harlow. Haleakala has more endangered species than any other park in the National Park Service, including ahinahina (silver sword) and nene (Hawaiian goose), the state bird.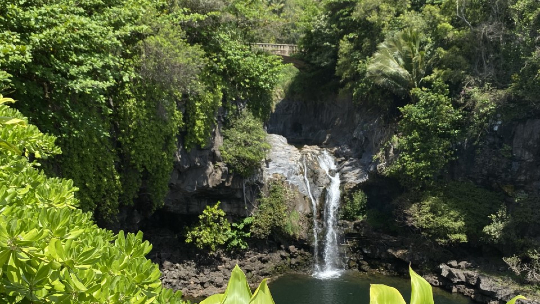 Bridge over Pools of Oheo. Photo courtesy NPS/Jin Prugsawan Harlow
Erupting volcanoes
Hawaii Volcanoes National Park is known for encompassing two of the world's most active volcanoes, Kilauea and Mauna Loa. Both erupted at the same time late last year, creating a spectacle for crowds who were especially excited to see Mauna Loa, which began gushing lava after lying dormant for 38 years.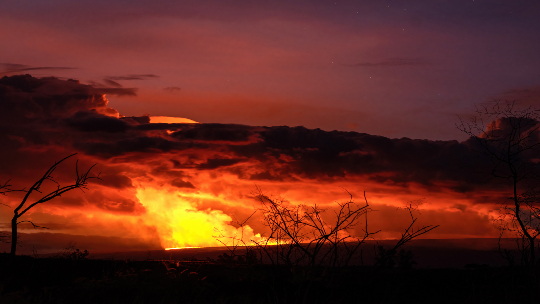 Mauna Loa eruption in 2022. Photo courtesy NPS/Janice Wei
But there's a lot more to explore beyond the volcanoes. The national park encompasses 355,000 acres, which is nearly the size of Oahu.
Walk through Kipukapuaulu to see rare plants, birds, and old-growth trees. Reaching the gigantic Napau crater requires a trek across lava fields and through a rainforest. See footprints left behind by Native Hawaiians long ago in the rugged Kau Desert.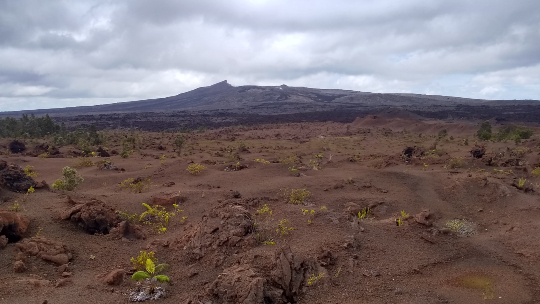 Napau Crater. Photo courtesy NPS/Greg Santos
Steeped in tradition
Both Haleakala and Hawaii Volcanoes are rich in culture and tradition. Long before a national park was established on the Big Island, Native Hawaiians lived, worked, and worshipped on the sacred land that is now Hawaii Volcanoes. An archaeological site called Puuloa is covered with more than 23,000 petroglyphs etched into hardened lava. Many of them are circles with a dot in the middle. A spokesperson for Hawaii Volcanoes National Park says it's how Native Hawaiians commemorated the birth of their children.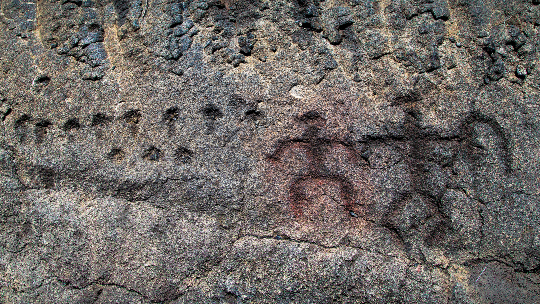 Petroglyphs at Puuloa. Photo courtesy NPS/Janice Wei
Important cultural sites are found across Haleakala as well. Native Hawaiians used the summit to study stars, create stone tools to cut down trees to make canoes and houses, and build structures like fences, walls, and shelters. Ahu (trail markers or cairns) were used as altars and guides.
"From Polynesian settlers to the vibrant Native Hawaiian culture today, there are a lot of sacred places and stories that connect the past and the present," says Prugsawan Harlow. "Haleakala is guided by the Native Hawaiian principle of malama aina (caring for the land). It's wonderful to see how many people truly care for this special place."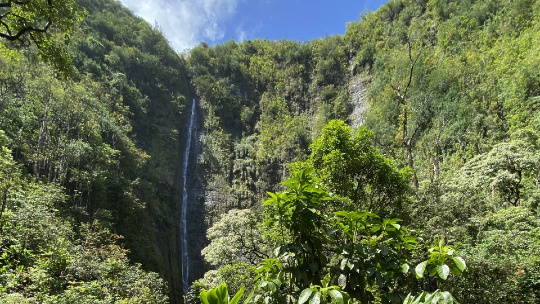 Waimoku Falls Overlook at Haleakala. Photo courtesy NPS/Jin Prugsawan Harlow
How to celebrate National Park Week
Entrance fees are waived April 22, the first day of National Park Week, so everyone can enjoy their national parks.
Haleakala is celebrating all week with volunteer clean-up events, hands-on activities for keiki, and guided hikes with rangers to see rare forest birds, identify Hawaiian plants, and learn about the cultural importance of sacred areas.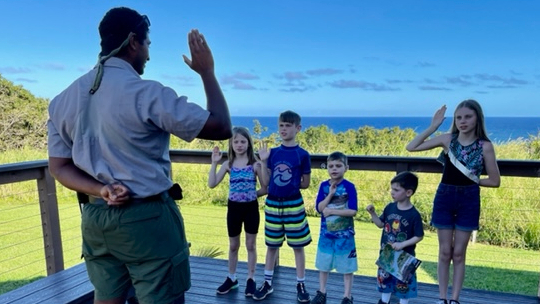 Haleakala park ranger swears in Junior Rangers. Photo courtesy NPS/Jin Prugsawan Harlow
Hawaii Volcanoes has an adventurous family event planned, guided hikes with rangers, and even Bark Ranger Day, where Mauna Loa Road is closed so you can take your dogs on a long walk on the scenic road.
Just remember they must be on a leash!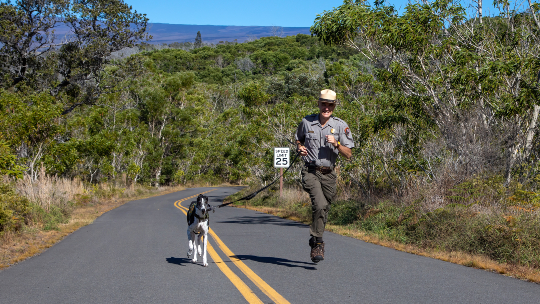 Bark Ranger Sting runs on Mauna Loa Road with Ranger Dean. Photo courtesy NPS/Janice Wei
The National Park Service is also asking everyone to share "your park story" about your unique connections with places in national parks and why they're important to you. Post your stories on social media with the hashtag #YourParkStory.