At HMSA, we have a singular purpose – everything we do is to improve the lives of our members and the health of Hawaii. We consider it a privilege to be able to care for our families, our friends, and our neighbors.
But improving the health of Hawaii isn't something we can do on our own. It's why we work in partnership with key stakeholders: providers caring for their patients, employers caring for their employees, the government caring for its citizens, and communities caring for each other.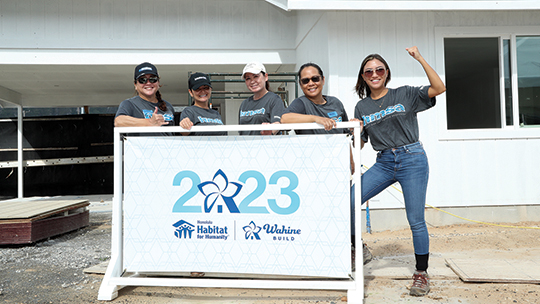 HMSA employees volunteering for Wahine Build, a Honolulu Habitat for Humanity event. Photo courtesy Earl Yoshii.
Through our work, we've learned that community conditions impact health, well-being, and quality of life more than any other factor. This is because the neighborhoods we live in impact the social determinants of health – the conditions in the environments where people are born, live, work, play, worship, and age.
The social determinants are grouped into five domains:
Economic stability: Poverty, employment, and food.
Education: Access and quality.
Health care access and quality.
Neighborhood and built environment: Housing, transportation, infrastructure, and natural resources.
Social and community context: Relationships, support, and interventions.
HMSA works tirelessly to promote health care access and quality. But we are keenly aware that this is just one of the social determinants of health.
Through the HMSA Foundation and corporate gifts, grants, and sponsorships, we invest in partnerships with communities to improve health by addressing their needs in all five of the social determinants.
Between 2020 and 2022, HMSA and the HMSA Foundation gave $11 million to organizations that focus on addressing and improving the social determinants of health in Hawaii's communities, at a time when it was needed most.
Here are some of those investments to help care for our families, friends, and neighbors:
Housing is health care
The average spending on emergency room care for a homeless person in Hawaii is $82,000 per person per year. It's why HMSA is supporting Gov.
Josh Green's efforts to build tiny homes, where homeless people who are discharged from the hospital can live with easy access to follow-up care.
As a community-centered model, Kauhale village is a new approach to addressing the needs of people in Hawaii who are homeless. Offering these individuals a community that they can call home will hopefully instill a sense of pride and motivate them to take better care of themselves.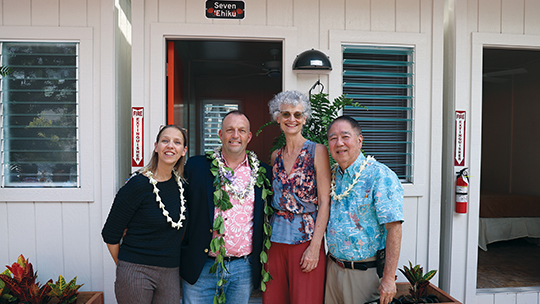 (l-r) Jennifer Diesman, Gov. Josh Green, Judy Mohr Peterson, and Dr. Mark Mugiishi at the Kauhale project blessing. Photo courtesy Office of the Governor.
National Fitness Campaign
Since fitness memberships aren't affordable for everyone, HMSA wants to bring fitness areas to communities across the state. Working with the National Fitness Campaign and state lawmakers, HMSA has committed to funding five fitness courts that can be used by adults of all ages and abilities.
"HMSA is proud to be a part of an effort that will bring community organizations and government agencies together to provide exercise courts that are accessible and free," says Jennifer Diesman, HMSA senior vice president of government policy and advocacy. "Physical fitness is important for overall health and well-being. It's exciting to be a part of this community health initiative."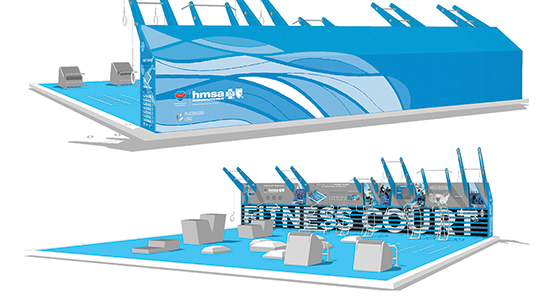 Concept art of the HMSA fitness areas.
The future of health care
In 2020, the HMSA Foundation committed $5 million over a period of five years to support a new and innovative way of educating our future health care workforce. The grant, which was awarded to the University of Hawaii's John A. Burns School of Medicine, supports the Learning Community Program.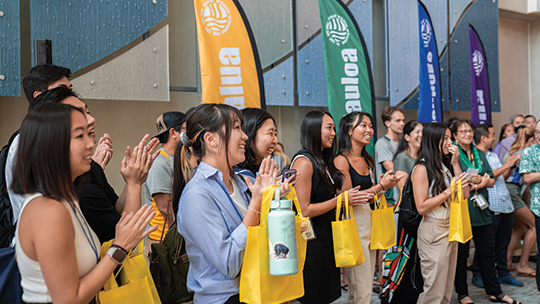 Incoming JABSOM students, class of 2027. Photo courtesy JABSOM.
"In the classroom, we can tell the students that there are things that need to be done, but being immersed in the community brings them a new perspective," says Stefanie M. Park, M.D., HMSA vice president and chief medical officer.
"Not only are they learning how empathy, understanding, and compassion are equally if not more important than the science behind medicine they learn in the classroom, they're creating real-life connections to patients and communities. One of our great hopes for this program is that it will give students a reason to stay and serve these communities they're learning from."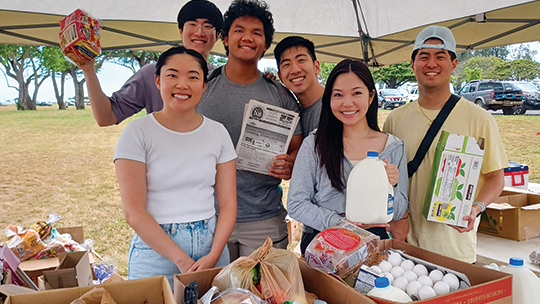 JABSOM students helping the North Shore Food Bank. Photo courtesy JABSOM.
Adolescent mental health
While it's true that kids are often resilient, they still need to learn how to process complicated situations and emotions. This is especially evident in the increased number of suicides among Hawaii's teens.
Suicide is a topic that we generally don't talk about openly. But we should. According to the Hawaii Department of Health, suicide is a significant public health problem in Hawaii. On average, one person dies by suicide every two days.
Working with our partners at Kapiolani Medical Center for Women & Children, HMSA is supporting the start-up of a teen resiliency program that will help teens who are at risk for suicide.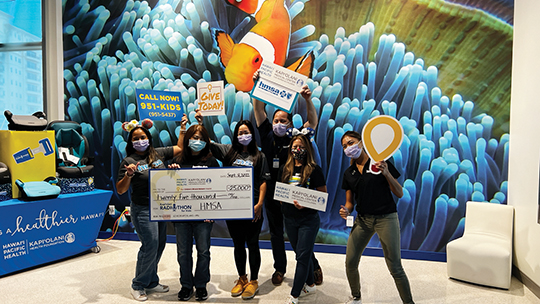 HMSA employees volunteer at the Kapiolani Radiothon. Photo courtesy Marvin Buenoconsejo.