I have many favorite food scenes in the 2009 Nora Ephron film Julie & Julia.
One is the perfectly back-lit sole meuniére that's served in a shallow pool of golden brown butter and perfectly deboned tableside for Julia Child and her diplomat husband Paul in a Paris bistro. And remember when blogger Julie Powell made Child's famous boeuf Bourguignon? The sauce was so shiny and smooth, prompting her to say "Yum" after the first bite.
But my all-time favorite scene is the close up of Powell flipping a thick slice of French bread in a pan of sizzling oil and butter to make bruschetta. At the dining room table of their small Queens apartment, Powell's husband, Eric, enthusiastically bites into the toasted bread topped with a mound of chopped tomatoes and green specks of basil leaves. You can hear a "crunch" just before tomato juice runs down his mouth.
Bruschetta (pronounced brus-ketta) is not in the repertoire of the 524 recipes in Child's Mastering the Art of French Cooking that Powell completes in 365 days. Perhaps because bruschetta is not French. Its origins are in Italy.
Bruschetta means "to roast over coals." So it's named after the way the bread is toasted – not the topping. Each region in Italy has its own way of preparing bruschetta – either with salami, sautéed mushrooms, or simply with olive oil after the first olive harvest. Whatever's fresh and in season.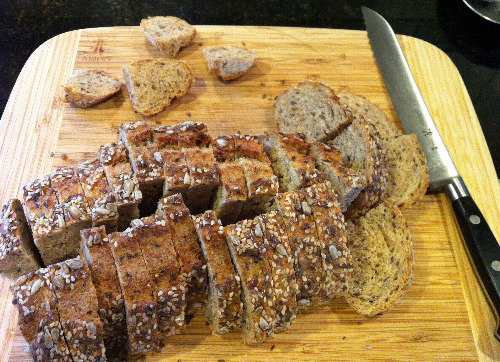 My version takes a healthier route. I use whole grain bread instead of white.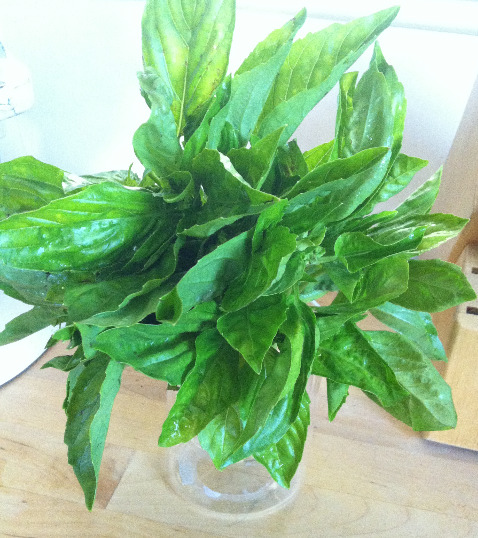 I got this bunch of fresh sweet Italian basil at the Saturday morning farmers market at Kapiolani Community College for only $1. You'll need about 12 leaves.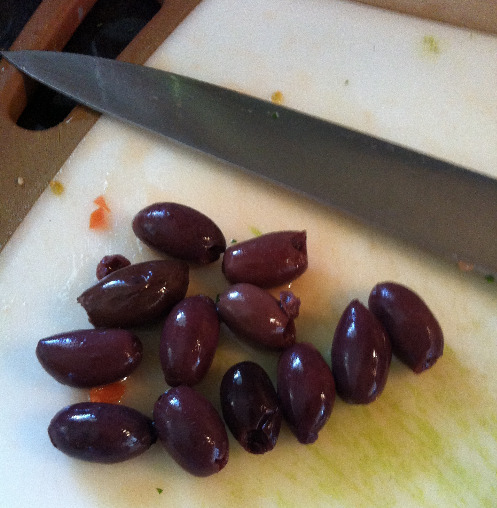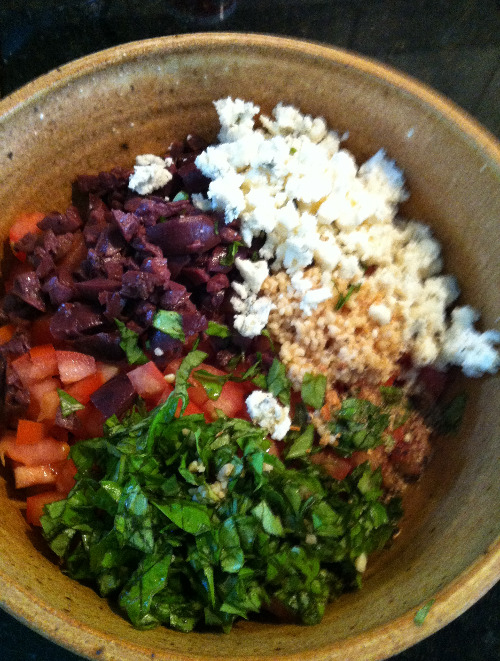 I add some Mediterranean flavors, like olives and feta cheese.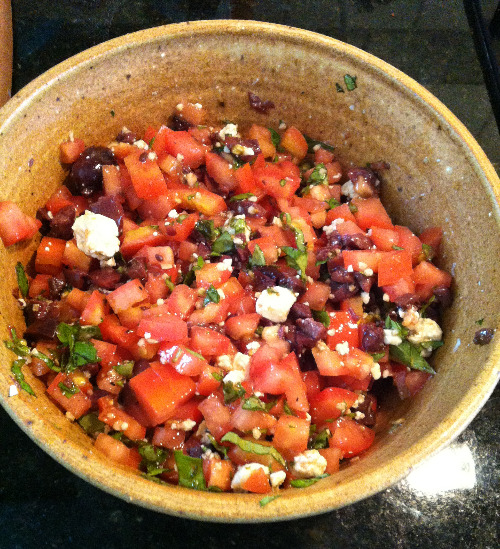 You can let the mixture sit for a couple hours to meld the flavors.
Bruschetta with Tomatoes
3 Roma tomatoes, chopped
1 clove garlic, chopped
12 basil leaves, julienned
Greek black olives, pitted and chopped (to taste)
Feta cheese, crumbled (to taste)
1 Tbsp. olive oil, plus more for bread
Whole grain bread, sliced
Couple grinds of pepper
Pinch of salt
Preheat oven to 200 degrees.
Combine tomatoes, garlic, basil, olives, cheese, and oil in a bowl. Mix and set aside.
Slice bread and brush with more olive oil. Lay bread on a baking sheet.
Bake bread for about 10 minutes or until lightly toasted. Check occasionally to make sure bread doesn't burn. You can also toast the bread on an outdoor grill.
Add pepper and a salt to the tomato mixture. (This should be done at the last minute because salt releases juices in the tomato. You don't want that to happen.)
Top bread slices with a spoonful of the tomato mixture. Add a drizzle of more olive oil if you want right before serving.