Dancing under the stars. Honoring ancestors. Spending time with family and friends. These are just a few reasons why obon festivals are a popular tradition in Hawaii. During the summer months, bon dances are a way to pay respect to ancestors and remember loved ones no longer with us.
For HMSA's Naomi Oshiro and Jen Gibo, who participate in various bon dances throughout the state, it's also the perfect time to teach bon dance to their colleagues and share their Okinawan heritage.
A family tradition
Growing up, Gibo looked forward to attending bon dances with her family. "It's a deep, meaningful experience that connects us to our past, family history, and future generations," she says. "I have memories of attending bon dance festivals with my parents, grandparents, and other relatives. Those memories will always have a special place in my heart."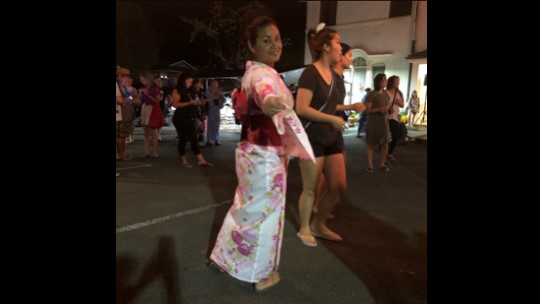 Gibo at a bon dance.
Oshiro also remembers the excitement of going to bon dances with her mother and aunt during her youth. "It felt like a special event since we wore our yukata, or thin summer kimono," she says. "And it was the only time I was allowed to wear lipstick and rouge!"
Uchinanchu pride
The term Uchinanchu describes someone of Okinawan descent. In Hawaii, having Okinawan roots is a source of pride. "My grandparents came from Okinawa," Oshiro says. "I saw firsthand the struggles they endured." In 2014, she joined an Okinawan bon dance group, Hawaii Eisa Shinyuu Kai. They teach bon dance and perform at different events around the island. "I dance to honor my grandparents and ancestors and celebrate life," Oshiro says. "It's how I share my culture with others."
Though Okinawa is a prefecture of Japan, it has its own unique culture and language. The Okinawan version of bon dance is called eisa. Those who participate in eisa wear colorful costumes and dance to taiko drums and the sanshin, a traditional Okinawan string instrument.
Gibo got involved in Hawaii's Okinawan community thanks to her cousin, Courtney Takara, who's immersed in local Uchinanchu culture. "Okinawan culture has been shaped by a complex blend of influences from neighboring countries and beyond, resulting in a vibrant and diverse set of customs, arts, and beliefs," Gibo says. "By sharing these elements of Okinawan culture, we can help to ensure that they're passed down from generation to generation and not forgotten over time."
Everyone is welcome
Though bon dance originated in Japan, in Hawaii, all are welcome. For Gibo, it's a way to build connections and foster mutual understanding between different groups of people. "Learning about and celebrating each other's cultures can help break down barriers and promote empathy and respect," she says. "It can also provide opportunities for people to discover new perspectives and ways of thinking, which can be enriching and rewarding."
Teaching and learning
When Oshiro and Gibo's colleagues at HMSA found out about their passion for bon dance, they asked the duo to teach a class for fellow employees. "What an honor and responsibility it is to teach bon dance," Oshiro says. "Jen and I were happy to lead the class."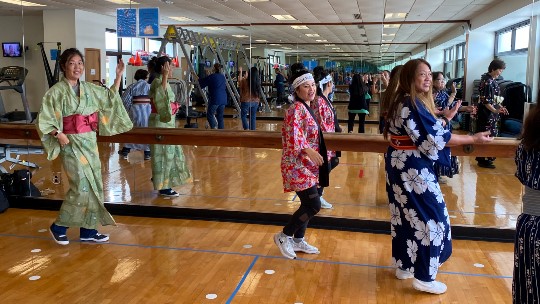 Gibo (center) demonstrating bon dance moves.
At first, Oshiro and Gibo were going to teach one class about bon dance basics. However, since the feedback was so positive and there was demand for more classes, they taught a second class. Participants dress up, learn basic dance moves, and share their favorite bon dance memories. Organizational Development and Effectiveness Associate Business Partner, Vicky DeMercer, enjoyed both classes. "I love obon season, the dances, the food, the community coming together," DeMercer says. "It's so wonderful that we can practice and have fun so when we go to a bon dance, we know what we're doing!"
But according to Oshiro, having fun is the goal. "You don't need to know what the moves are," Oshiro says. "The most important thing is to enjoy yourself."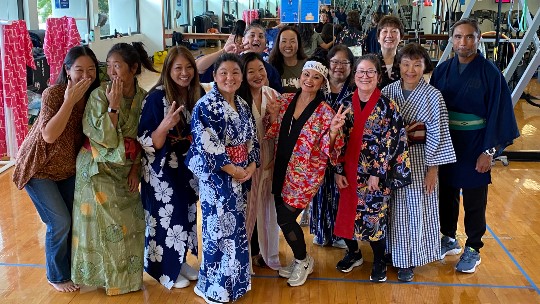 Gibo (front row, center) and Oshiro (front row, third from right) and their students.
Moilili Summer Fest
Watch Oshiro and her fellow members of Hawaii Eisa Shinyuu Kai performing at the Moiliili Summer Fest, Honolulu's largest bon dance.