Bullying can happen to anyone. It happened to Ryne Mizushima.
Laid back and likable, Mizushima may remind you of a lifelong friend, kind classmate, or funny cousin when you first meet him. He looks like a local boy born and raised in Hawaii who enjoys golf and works in finance, but what you don't see is his pain.
For years, Mizushima was severely bullied. And though he doesn't let that negative experience define him, he still grapples with his past. Yet he somehow finds the strength to continue to move on.
An estimated 3.2 million American students are bullied every year. Of these students, 10 to 15% experience chronic bullying or continual distress for six months or more. Bullying isn't a joke or just a part of growing up. Persistent peer victimization can lead to lower academic achievement, higher unemployment rates, depression, anxiety, post-traumatic stress disorder, substance abuse, and self-harm and suicidal thoughts.
Sticking up for a friend
Though Mizushima describes his childhood as "typical," he accomplished a great deal at a young age: he made it onto the headmaster's list, was French horn first chair in band, played basketball and baseball, and was one of Hawaii's representatives to the Junior World Golf Championships when he was 8. Then, one day in intermediate school, a group of boys started picking on his friend.
"We were both kind of on the short side, so I stood up for him," Mizushima says. Then, the bullies turned on him. "Looking back, I should've said something to an adult right away. At first, I tried to handle it myself. But I didn't know what else to do."
For two years, he endured severe teasing, verbal threats, aggressive physical harm, and more. He eventually told his parents. There were meetings at school with teachers and counselors. "But none of it helped," Mizushima says. "They wouldn't stop."
He changed schools after the eighth grade. The bullying stopped, but the effects remained. "I carried a lot of anger and sadness with me."
A fresh start
Through therapy and the unconditional love and support of his mom, Claire, dad, Gary, and his extended family, Mizushima started piecing his life back together. Instead of dwelling on unanswerable questions like "Why me?" and "What did I do to deserve it?" he focused on the positive. He made friends at his new school, Kalani High School. And after he graduated, Mizushima headed to the University of Hawai'i at Hilo.
"I didn't know if I'd be able to handle life on my own. I think my family worried about me," Mizushima says. "But I was fine. I cooked and did my own laundry. I met all kinds of people from around the world and helped them with culture shock. For the first time in a long time, I felt OK."
Giving back
After all he's been through, it would be understandable for Mizushima to look out only for himself.
But that's not an option for him. He volunteers at his church whenever he can, cooking and serving food for the homeless. "If it weren't for my family and the people who cared about me at church, I don't know where I'd be today," he says. He also gives back to various organizations that supported him such as his alma mater and sports programs.
He also believes golf played a significant role in his recovery.
When Mizushima was a child, golf was simply a fun game. Then, he was able to play competitively as a junior golfer and during high school. But, during the darkest days, he stopped playing. Today, he uses golf to enjoy the outdoors and center his mind. "Concentrating on my game helps my brain settle down. And fresh air always makes me feel better."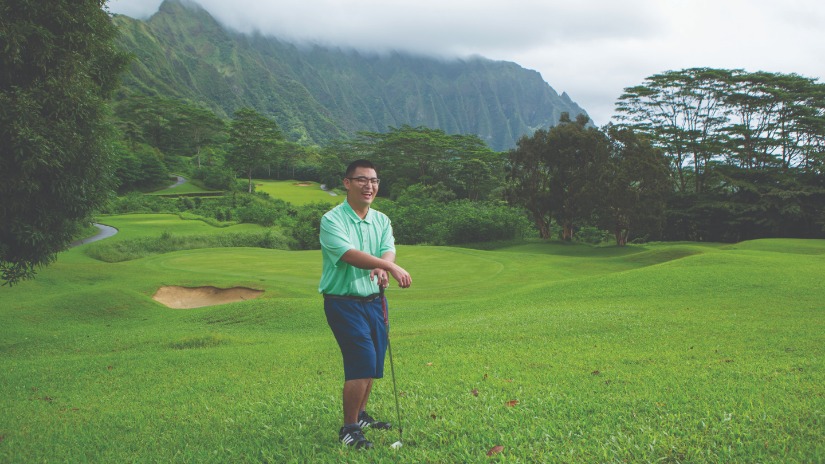 Looking to the future
Mizushima knows that life doesn't wrap up neatly like in a movie. But today, he's stronger than ever. He's learned that living in the present helps to keep him from dwelling too much on the past.
"There's ups and downs," he says. "But after everything I've been through, I'm happy. I actually look forward to the future."
Photos by Romeo Collado