January is here and it's time to bid farewell to another season of family gatherings and its endless array of holiday treats. As some of us make New Year's resolutions to lose the holiday pounds, we are often bombarded with ads promising the latest fitness trend.
Many products and fads have come and gone. Did any of them work? A few Hawaii residents share their experiences:
Zach: Iron Gym, Tower 200, and Bowflex were ones I actually spent money on. All great stuff, but my self-discipline wasn't that great.
Jeremy: DDPYoga also helped me out a lot. I don't dig the spirituality of traditional yoga but respect it. I love that DDPYoga is user-friendly and treats it as a pragmatic exercise and focuses on heart rate. The modified positions are also super good for beginners.
Tracy: I actually really like resistance bands. They give me something to do while watching Netflix.
Naomi: In my 20's I tried Slim Fast Shakes, years later I was going to use it again and couldn't stand the smell anymore. When Oprah promoted the Low-Fat diet in the 90's, we all tried it at work, but of course years later we learned it didn't work 'cause we thought we were free to eat carbs!
Colleen: I can vouch for myThighmaster. That thing actually works.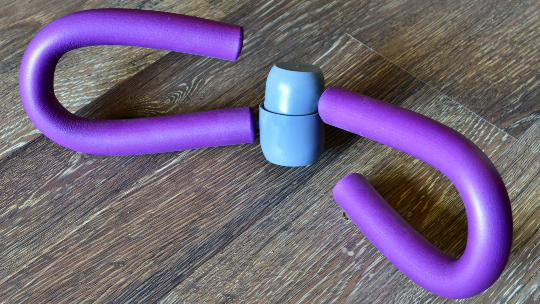 Remember the Thighmaster?
Dos and don'ts
As you comb through ads in the New Year, the Federal Trade Commission has some tips to avoid fraud:
Don't send money or personal information to an unexpected request, even when it appears to be someone you trust.
Do online searches for the company and/or product to find reviews.
Don't believe your caller ID because technology makes it easy to fake that information.
Don't pay in advance for things like debt relief, loans, credit or mortgage assistance.
Consider paying with methods that have significant fraud protection, such as credit cards.
Before you give up your money or personal information, talk to someone you trust.
If you answer the phone and hear a recorded sales pitch, hang up and report it to the FTC.
Be skeptical about free trial offers.
Don't deposit a check and wire money back.
Sign up for free scam alerts from the FTC.

Wantt to learn more about how to keep safe online? Checkout the following stories:
avoiding irs imposter scams during tax season
avoiding spoofing scams
online safety tips
digital safety for our keiki
get deals, not dupted, on cyber monday