Art satisfies our human desire to forge connections, communicate ideas, and create beauty. We pass down our culture through folktales and dance. We rage against oppression with the mighty pen and lament lost love on the silver screen.
No matter its form, art is an expression of the soul.
Here, three local artists share their craft, how they find inspiration, and why they consider art the greatest representation of aloha.
Kristi Yamanaka
The Honolulu native traces her introduction to making lei to her public school May Day performances. However, the talent for lei-making grew in the family. Yamanaka's grandmother was a lei-maker and she remembers being transfixed by the garlands of pikake, pakalana, crown flower, and ohai alii strung across the kitchen table.
"Aunties and uncles would call if they needed lei for a special occasion. If she had an abundance of flowers, she would sell her lei to the flower stand in Kahala Mall or donate to her local church," Yamanaka says.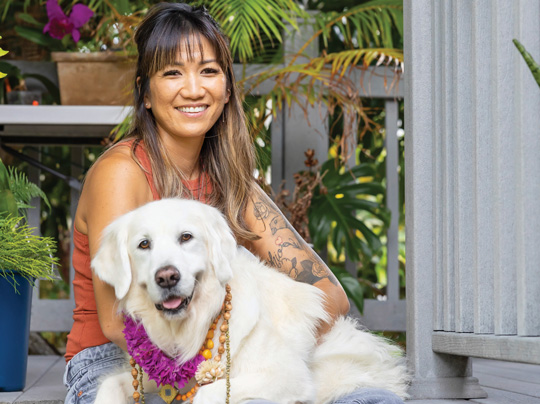 Lei-maker Kristi Yamanaka uses native flowers, leaves, nuts, and seeds to make her unique designs. Her assistant, Pia, models one of her signature mix-media creations. Photo: Rae Huo
It wasn't until 2017 that Yamanaka began making lei herself, first for her family and friends, then slowly for others in the community.
"The people I get to create with inspire and challenge me. The stories and personal details they share really push me to create something more 'outside of the box' than before," she says.
Another driver for her craft is her relationship with God, whom she credits for providing this opportunity to share with others.
"Making lei is a gift and a privilege," she says. "It's one of many traditions that we have passed down and acquired over many generations – a true act of selflessness and honoring others."
Learn more about Yamanaka's designs at leipapahi.com.
Nan Yamashiro
Though Yamashiro always considered herself creative, she didn't pursue art full time until her retirement from a 29-year career in account management and sales at HMSA.
"My husband passed away unexpectedly in 2017. This life-changing event caused me to rethink my life goals. I retired in 2019, took art classes, reinvented myself, and began a new chapter in my life. This allowed me to be creative, challenged me, and provided new growth opportunities," the Windward Oahu resident says.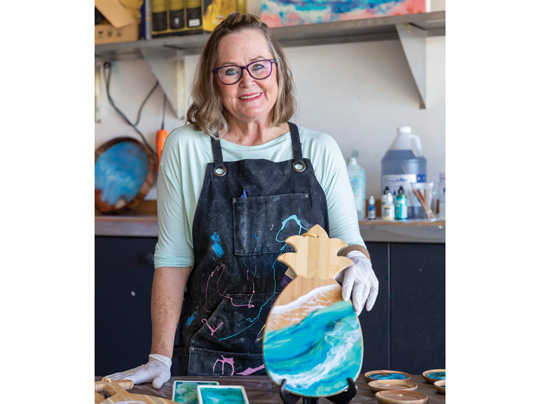 Nan Yamashiro compares working with resin to the ever-changing ocean tides – they can be temperamental, but you can find clarity, tranquility, and joy in both. Photo: Rae Huo
Yamashiro's renaissance moment began with a resin class. The material's fluidity reminded her of the ocean, which is where she goes to seek clarity.
"The sea inspires me. It's my go-to place for comfort and peace," she says, noting that she often incorporates sea creatures into her work. "It's fun to look into a little resin 'tidepool' and see a starfish peeking out of the waves."
Like the sea, resin can be temperamental, but Yamashiro says the challenge is part of the fun. "Resin art can be very frustrating – it has a mind of its own! But when a piece turns out well, it's thrilling. Being engaged in the creative process brings me joy," she says. "I feel like I live a rich life and I'm very happy."
Learn more about Yamashiro's work at resinartkailuahawaii.etsy.com.
Craig Nichols
Nichols knew from an early age he would be a craftsman. He also knew he'd spend his life immersed with the ocean. It's little wonder, then, that the award-winning artist has carved out a niche for himself with wood sculptures that marry elements from mauka and makai.
"I love wood. It's endlessly fascinating," says Nichols. "I also love the water. I ran fishing and dive boats in the Florida Keys and Hawaii, and I would see dolphins, whales, turtles, and all sorts of fish. I would make carvings of these on the side; now all I do is carve!"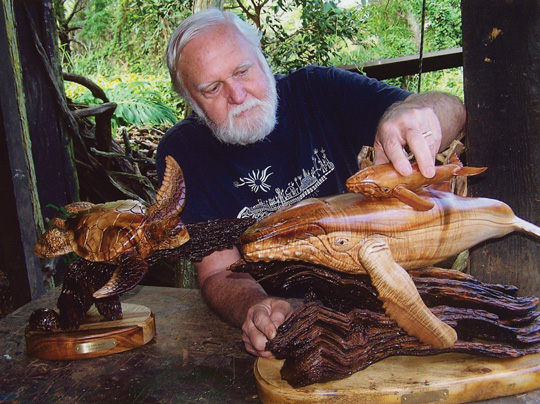 Master woodworker Craig Nichols has crafted a niche for himself carving lifelike sculptures of marine animals out of wood. Photo courtesy: Kay Nichols
A move to Puuanahulu on Hawaii Island 30 years ago solidified Nichols' place in the woodworking world. He discovered local hardwood species like mango, naio, and koa, which Nichols deftly uses in his lifelike figures of honu, manta rays, whales, pigs, and butterflies.
"It's nice that I have my shop right outside our house. I love what I do. It's good fun, it's creative, what else could you want?" the 73-year-old says with a laugh. "I just want to communicate that I appreciate and love nature, and I know that other people do, too."
Nichols work can be found in art galleries and Martin & MacArthur stores throughout the state.