Alzheimer's is a brain disease that can affect memory, behavior, and other functions. It's caused by damage to nerve cells, or neurons, in the brain. More than 6 million Americans have Alzheimer's.
In observance of Alzheimer's and Brain Awareness Month, we asked HMSA Supportive Care Medical Director, Toby Smith, D.O., who's board certified in internal medicine, hospice/palliative medicine, and geriatrics, to answer some questions about this disease that affects 55 million people worldwide. We also talked to Alzheimer's Association – Hawaii Executive Director, LJ R. Duenas, to find out how the organization supports those with Alzheimer's and their families.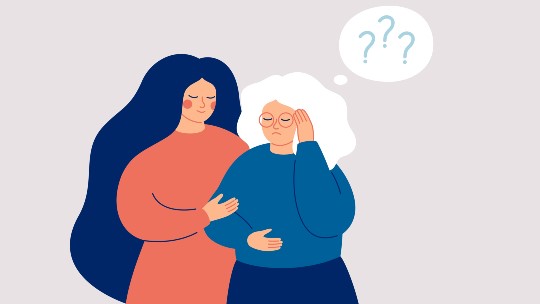 Q & A with Dr. Smith
What's the difference between Alzheimer's and dementia?
Alzheimer's disease is the most common type of dementia. There are several other types of dementia that are less common such as vascular, frontotemporal, Lewy Body, and Parkinson's related.
What are some early signs of Alzheimer's?
Memory impairment is usually the earliest sign of the disease. Memory regarding time and place are initially affected. As the disease progresses, executive function and judgment or problem-solving skills are also affected.
What are some causes of Alzheimer's?
Unfortunately, the cause of Alzheimer's disease is uncertain. We know that genetics play a role and that there's an increased production of amyloid (a type of protein) that forms plaque and neurofibrillary degeneration in the brain. It appears that the progression of the disease is related to the overproduction and decreased clearance of amyloid deposits and there are many contributing factors to this process.
Is there a cure for Alzheimer's?
At this time, there's no cure.
Since there's no cure, is there a way to prevent Alzheimer's?
There's currently no proven way to prevent Alzheimer's disease. The research that has been done hasn't been convincing in regard to diet, exercise, or even treatment of other medical conditions like high cholesterol.
However, it's common for dementia to be caused by a combination of diseases including vascular disease. It's known that atherosclerosis, diabetes, and obesity are risk factors for Alzheimer's disease and dementia. It makes sense to treat these conditions as aggressively as possible even though there may not be a direct correlation to preventing Alzheimer's.
In your field of medicine, what kinds of patients do you work with?
I primarily work with patients who live in nursing homes, care homes, and are in the later stages of a serious illness. Dementia is probably the most common condition I see in my patients.
What do you enjoy about what you do?
I enjoy providing guidance and advice for patients and families who are dealing with serious illnesses like Alzheimer's disease and dementia. Many patients and their families don't know what to expect and aren't familiar with how these diseases progress. They often aren't prepared so I help them understand what they need to do to help to make sure that their wishes and goals are clearly defined.
What are some things you'd like people to know about Alzheimer's and Brain Awareness Month?
My father was diagnosed with Alzheimer's disease this past year, so the topic is near and dear to my heart. It's difficult to know that there aren't any current treatments that will reverse the disease or improve his cognitive impairment. However, there's still a lot we can do to make sure that his quality of life is the best that it can be.
It's important for those with Alzheimer's to talk to their doctor about their preferences for medical care before the disease becomes too advanced. They should also discuss their faith and relationships with loved ones who can provide support along the way. Using a resource like The Five Wishes can help start those discussions and provide a guide to putting these issues down on paper. This can help make sure that everyone is on the same page and that the areas that are most important are addressed.
Alzheimer's Association – Hawaii
Helping families
Founded in 1982, the Alzheimer's Association - Hawaii supports those facing Alzheimer's disease and other dementias. Duenas says the organization focuses on four primary areas:
Raising concern and awareness about Alzheimer's and other dementia.
Providing care and support to those living with Alzheimer's or another dementia and their caregivers.
Advocating for policies that support our aging population, people with dementia, and caregivers.
Raising funds to support our work in Hawaii and in the science that will lead to better treatments and, ultimately, a cure.
Services and resources
The Alzheimer's Association – Hawaii is the only voluntary national health organization in Hawaii with a presence on all islands. While the Hawaii headquarters are in Honolulu, there are staff and volunteers in all counties. "We provide caregiver support groups, early-stage support groups, caregiver training and education, care consultations, and awareness programs," Duenas says. "We also give referrals to other community organizations for services we cannot offer."
For information and resources about Alzheimer's and dementia, as well as information about events and ways to volunteer, visit their website or call 808-591-2771.
They also have a 24/7 helpline at 1-800-272-3900. Through this free, confidential service, those living with dementia, caregivers, families, and the public can get information and support from specialists and master's-level clinicians.
Additional articles
Check out more articles about Alzheimer's and dementia:
another look at alzheimer's and dementia
compassionate caregiving
dementia: is forgetfulness normal?
understanding dementia