The shed movement originated in Australia in the 1980s as a way to improve the health and well-being of retired people. Today, there are an estimated 2,500 sheds around the world. Each shed is an independent nonprofit organization that specializes in a hobby or skill such as gardening or carpentry.
In Hawaii, Aloha Community Shed's focus is community service. We talked to Bob Jewell, founding member and board treasurer, about how Aloha Community Shed is good for members and even better for the community.
Bringing the aloha
Jewell and a few others started Aloha Community Shed in 2021. "Sheds save lives. Instead of staying home bored and alone," Jewell says, "members have a great time socializing and working together, breaking their isolation, and giving back to the community."
"Our mission is to encourage healthy physical, social, and mental opportunities for senior men and women," says Jewell. "And to share friendships, experiences, and projects with pride, dignity, and aloha in a welcoming environment."
There are currently more than 30 members from different backgrounds with a variety of experiences and skills. "We have retired pilots, engineers, physicians, you name it," Jewell says. "Sheds help enhance the well-being of members by encouraging social inclusion and the spirit of camaraderie."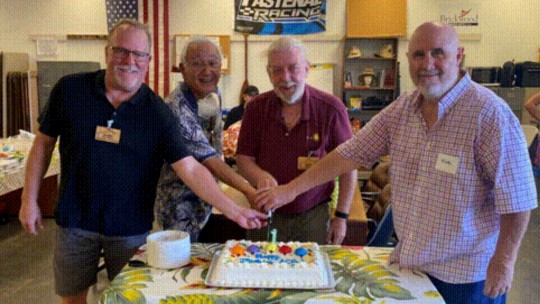 Aloha Community Shed members celebrating their one year anniversary in 2022.
A focus on giving back
As each shed has their own interests and goals, Aloha Community Shed uses woodworking to give back. "We've made benches, planter boxes, and tables for schools, senior centers, and nonprofit organizations," says Jewell. "We recently partnered with the AOK Foundation to help build tiny homes in Waimanalo."
When the John A. Burns School of Medicine received a new van to serve as a mobile clinic, shed members were called upon to help. "From storage to an exam table," Jewell says, "we built the guts of the van." As a result, the Houseless Outreach and Medical Education, or H.O.M.E., project can provide medical students with hands-on training while patients get the services they need.
If someone isn't familiar with woodworking, they can learn new skills if they want or just hang out since the shed hosts social events, too. "We have a potluck and Sausage Sizzle, on the first Saturday of each month," Jewell says. "We also volunteer around the island. We go wherever we're needed." They also have jam sessions, play golf, and eat together. "We're the Lunch Bunch," Jewell says. "We love any excuse to eat at one of the amazing eateries in our Kalihi neighborhood."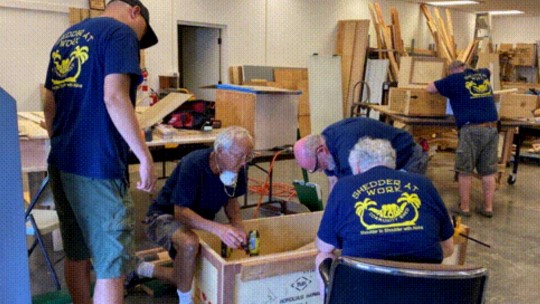 Putting their woodworking skills to use.
Support the movement
Aloha Community Shed is grateful for the generous donors and community support that supplied the tools and supplies needed for projects. "We're not funded by the government," Jewell says. "Everything is donated." They welcome both financial and physical donations that will empower them to do more for members and the community.
Creativity is key when relying on others. When a local company started donating empty shipping crates to the shed, one of the members envisioned closets for the tiny homes they'd built in Waimanalo. "One person's empty crate is another person's closet," Jewell says. "It goes hand in hand with our belief in reusing, repurposing, and recycling."
Members also use their creativity and woodworking skills to make cellphone stands, cutting boards, and even toys to sell in their Shed Shoppe. "Everything is crafted with care," Jewell says. "Whether you want to buy something for yourself or as gifts, you know you're supporting a good cause."
Check out Aloha Community Shed
Take a tour of the shed with Jewell as he discusses their members and mission and shows off some impressive woodwork.
Join the movement
"I encourage everyone to get out of the house, come down to the shed for a visit," says Jewell, "and get involved, contribute to the cause, or just hang out and talk story."
For more information about Aloha Community Shed, email or visit their website or Facebook page.
Photos courtesy Aloha Community Shed.