Many people may not realize that for a certain time in history, the Hawaiian Kingdom outpaced many nations, including the United States, in literacy rates. However, over the past century those rates have fallen, especially among Native Hawaiian and Pacific Islander populations.
Why worry about someone's reading ability? Literacy is closely tied to your physical health. Adults who lack health literacy have difficulty understanding basic health care communications such as preventive health care information, doctor's instructions, prescriptions, and insurance forms.
Literacy also impacts societal health. The benefits of improved literacy include:
Less poverty.
Lower infant mortality rates.
More community involvement.
Improved health and disease management.
Increased self-esteem, confidence, and empowerment.
In 2020, local nonprofit Hawaii Literacy served 94% of residents considered very low-income. About 13% were homeless at some point during the year, and 70% currently live in public housing. More than 80% of those Hawaii Literacy serves are low-income children, and 63% are Hawaiian or part-Hawaiian.
"We base our free literacy programs in high-need communities where people are disproportionately affected by high illiteracy and poverty," says Jill Takasaki Canfield, Hawaii Literacy executive director.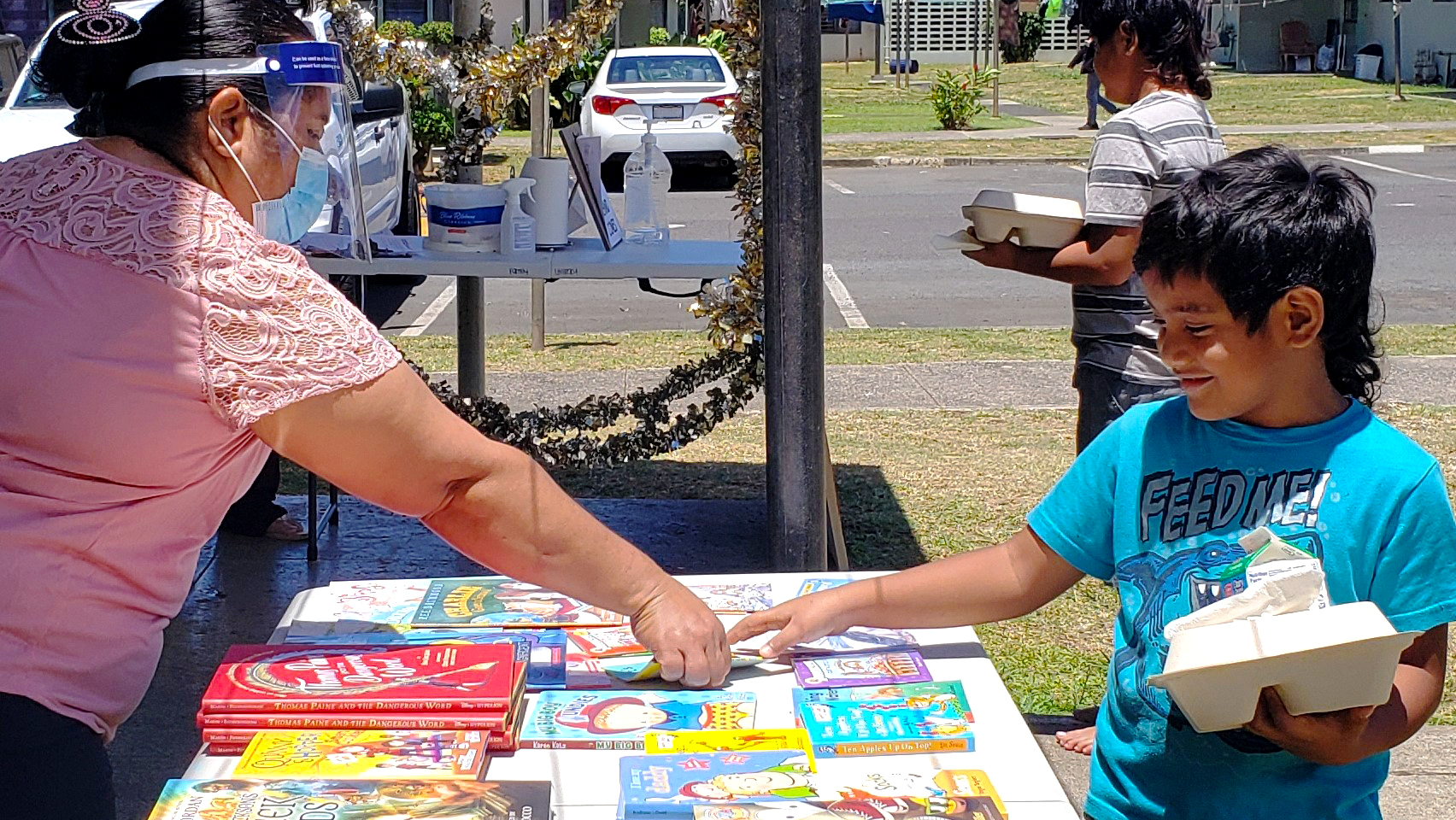 During the COVID-19 pandemic, Hawaii Literacy staff and volunteers held distribution events that nourished families with food for their bodies and minds.
These same communities struggled during the COVID-19 pandemic – not only with health impacts, but the challenges it presented for families without technology tools at their fingertips.
"The communities that we serve are predominantly low-income, so when the pandemic hit, many learners and families were furloughed or laid off and no longer had the time to devote to tutoring or focus on their children's schooling because basic life necessities were prioritized," Takasaki Canfield says, noting that most families who relied on their services didn't have access to the internet, had limited phone plans, or lacked the digital literacy skills to use distance learning tools.
Staff adopted the role of temporary tutors so adult learners could continue receiving support when applying for health insurance, rental assistance, food access, unemployment, workforce training programs, and government-funded pandemic programs.
"We created 'tech times' to help learners connect for virtual tutoring," Takasaki Canfield says.
Other solutions Hawaii Literacy implemented over the past year include:
Holding distribution drives of new books, literacy kits, school supplies, and Keiki Wellness Bags through its Bookmobile program.
Publishing online resources for parents and caregivers of children younger than age 5, to include read-alouds and videos of literacy-building activities.
Piloting a BookNook, an adaptive reading and hybrid education technology platform, and a Mini Summer Reading Program with Summer Fun at Waianae District Park in conjunction with Waianae Public Library.
Shifting to virtual tutoring and online classes, and creating additional levels to the English classes and a health class.
Launching story times on the Hawaii Literacy Instagram account (@hawaiiliteracy) along with reading contests, polls, questionnaires, surveys, and a Youth Leadership Group.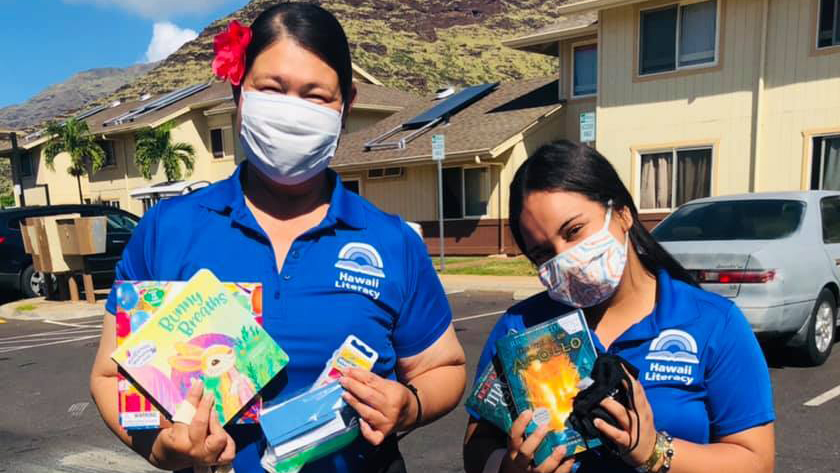 Hawaii Literacy staff members passed out new books, school supplies, and literacy kits to under-served communities throughout the COVID-19 pandemic.
"In addition to helping learners connect to resources such as rental assistances and unemployment, our team distributed PPE, food and produce boxes, and Keiki Wellness Bags that contain new books, family literacy activities, school supplies, masks, healthy snacks, COVID-19 information," Takasaki Canfield says.
However, for some populations, the need for in-person education couldn't be supplemented virtually. To address this need, Hawaii Literacy's bilingual and culturally competent staff connected communities hit disproportionately hard by the COVID-19 pandemic with access to critical information using graphic-rich flyers written in simplified language for low-literacy community members and in multiple languages.
"We joined the effort to connect resources with the people that needed them most," Takasaki Canfield says. "We all came together. We dug deep, we got creative, and we pivoted. We made it through because of a strong staff, amazing board, dedicated volunteers, learners who wouldn't quit and support from our community."
The team also relied on community partners for assistance. In summer 2021, HMSA held a book drive at its Oahu locations. In the span of a month, the organization collected more than 300 new and used books for Hawaii Literacy, which were distributed through the Bookmobile and FLL programs.
"Book drives such as these provide much-needed resources and put books into the hands of children who have less access to books," Takasaki Canfield says. "The average low-income home has very few or no age-appropriate books. Even a small home library of five to 10 books can help a child identify as a reader and is correlated with increased reading scores as well as a significant factor influencing a child's early educational success."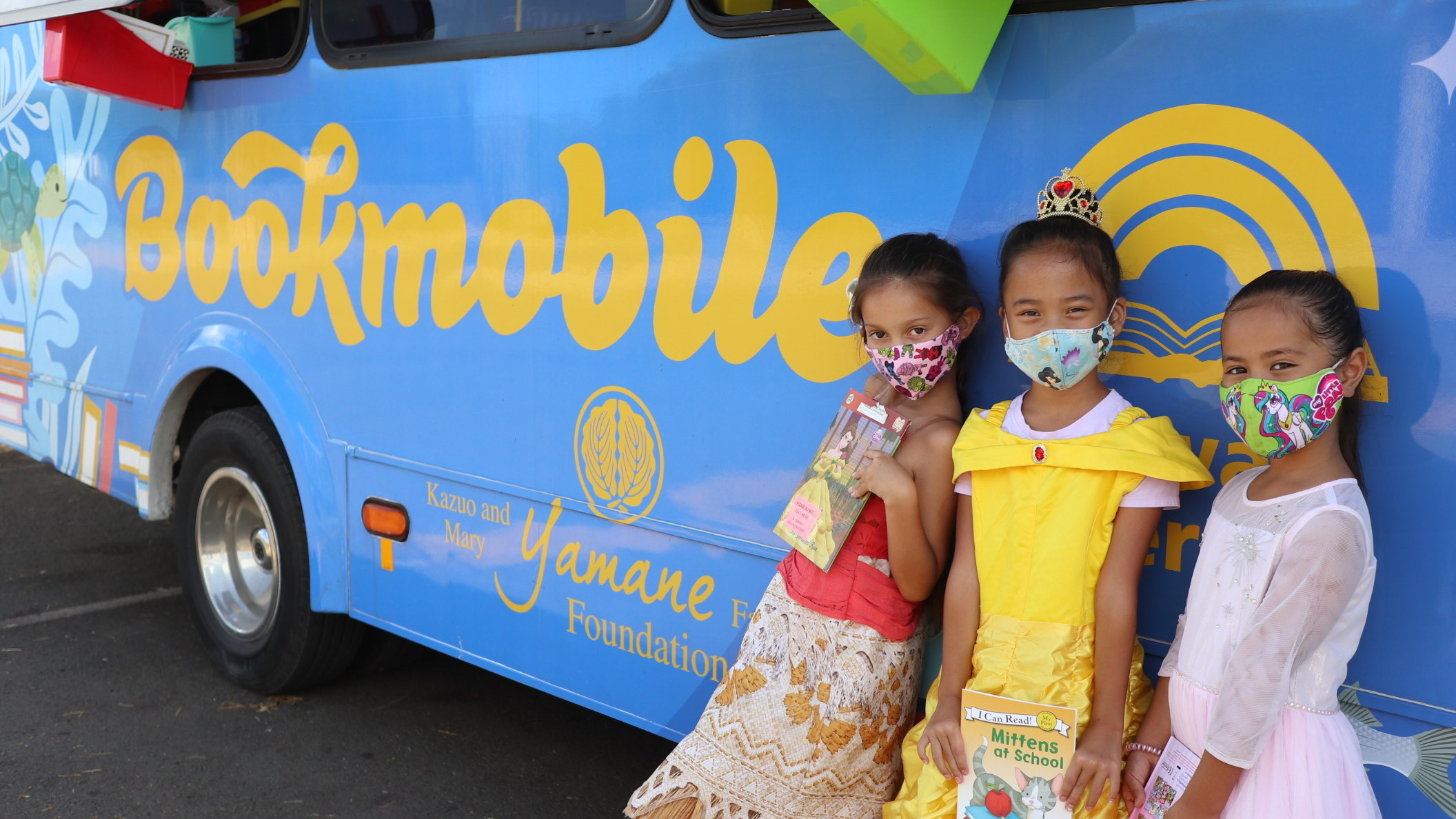 The bright-blue Bookmobile brings books to keiki and families who lack access to reading resources.
With 50 years of service in the books, Hawaii Literacy is turning attention to its next chapter – transforming Hawaii's learning landscape to address the gaps between the haves and have-nots.
"We are constantly discussing how our organization can make a bigger impact in the communities we serve," says board president Brandon Kurisu. "We want to get to the root of the problem and go beyond our literacy programs to address access limitations to the resources, learning materials, digital tools, and infrastructure needed to create positive learning environments statewide.
"Literacy will always be at the core of improving the quality of life and strengthening families and communities," he adds. "It's rewarding to know that what we do can potentially change lives."