A recovering addict has the opportunity to reunite with her child. A homeless man joins a local doctor on a fishing trip.
These are just two of the countless, meaningful gestures making a difference to the hundreds of people in Hawai'i with no place to call home. These acts of kindness wouldn't be possible without a team of compassionate caregivers. And without this support system, these homeless residents may not have been inspired to begin their long road to recovery.
In 2020, Hawai'i ranked #2 in the nation for the highest percentage of homeless individuals. Most of Hawai'i's homeless live on O'ahu – and as you drive around the island, it's clear just how widespread the problem is. During the state's recent census of homeless individuals, Scott Morishige, the state coordinator on homelessness, said the number of unsheltered people on O'ahu has steadily trended upward for the past decade.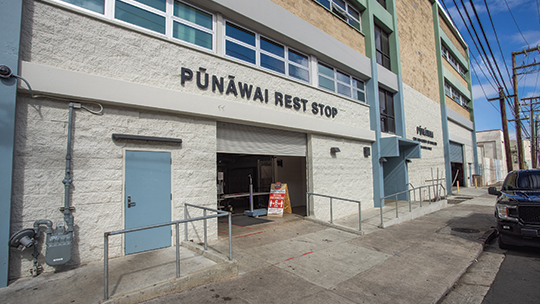 H4's Punawai Building is located in the outskirts of Chinatown, an area known to be a cross road for many homeless individuals in the urban core of Honolulu.
Not everyone has the time, resources, or expertise needed to transform people's lives. Thankfully, the Hawaii Homeless Healthcare Hui, or H4, fills a critical gap in care for homeless residents. "We're unique in that we strictly focus on health care for the homeless and helping this underserved population," says Andy Mounthongdy, H4 executive director. "We address their core needs by first providing a medical respite – a safe place to come to and recover once they're out of the hospital."
Typically, when a person leaves the hospital, they'll go home to family members or a loved one who can help care for them until they're back on their feet. But when you're homeless, that's not the case. "It's hard to go from the hospital straight back to the street where they're not able to heal," Mounthongdy says. "Other core services include case management and getting them proper identification cards."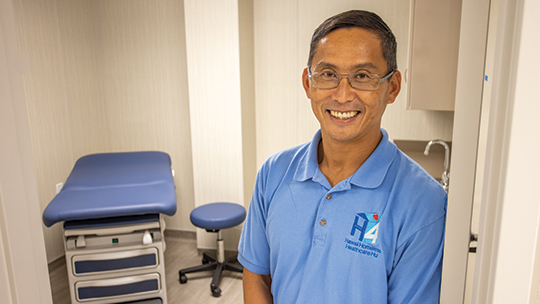 Andy Mounthongdy
The City & County of Honolulu purchased H4's Punawai Building in Iwilei. On the ground floor, Mental Health Kokua provides showers and laundry facilities, internet access, and mail services. In addition to H4's medical respite, the building has permanent supportive lodging thanks to Steadfast Housing as well as a brand-new full-service walk-in medical clinic. This much-anticipated expansion includes seven private exam rooms plus space for counseling services and administrative offices.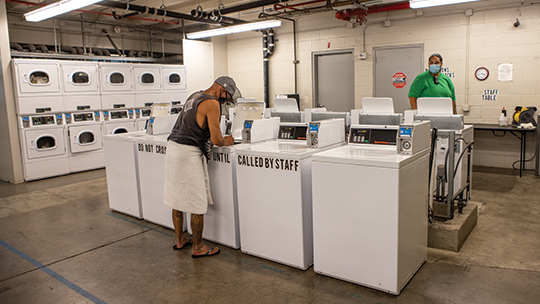 The ground floor of the Punawai Building is called the Rest Stop, a social service and hygiene center.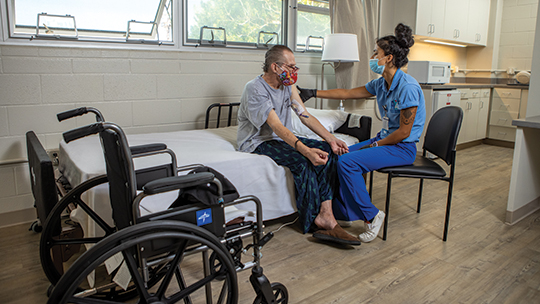 Nurse Victoria Broussard checks on a long-term resident in the medical respite.
HMSA is one of the primary financial sponsors for the nonprofit H4 along with The Queen's Health Systems and Islands Hospice. "It's the best $6 million we've ever invested in the community," says Katy Akimoto, HMSA's senior vice president of Health Management. There's also an H4 satellite clinic in Kane'ohe, which is another example of community stakeholders working together to help address this issue.
Mounthongdy says the public can support H4's mission by being empathetic to those suffering. "About 48% of people in Hawai'i are living paycheck to paycheck, so a lot of folks are just one paycheck away from being homeless," he says. "There are some people who make mistakes, but a lot of times, people trying to get by in life end up out of luck. There are complex, systemic issues that we need to tackle."
Photos: Romeo Collado