Kelvin Chun can make a bird disappear with the snap of his fingers during his magic shows. But he wishes he had the power to have made his dad's heart condition and diabetes vanish.
"Dad had his first heart attack when he was 39 and died when he was 52," says Chun.
Losing his dad at a young age motivates Chun, 62, to make the most of every day. He's embraced the Okinawan concept of ikigai, living with purpose. He fills his life with physical and social activities that have led to meaningful experiences and connections.
Chun has been to China at least 50 times and to Japan 40 times. He's trekked 17,500 feet to Nepal's Everest Base Camp, climbed to the Kjeragbolten boulder wedged in a mountain crevice in Norway, kayaked and snorkeled in Thailand, and went horseback riding in Iceland. Along the way, he's developed connections with locals and other travelers. "Most Hawaii people go to Disneyland or Vegas for vacation," he says. "I like going off the beaten path to experience different countries and their culture."
In China, he visited a longevity village in Bama, Guangxi, and learned the simple lifestyle of centenarians who were surrounded by the natural beauty of towering green mountains and winding rivers. "Through my travels, I found my ikigai," he says. "Everyone has ikigai. Finding it requires a deep and often lengthy search of self. That discovery brings
me satisfaction and meaning."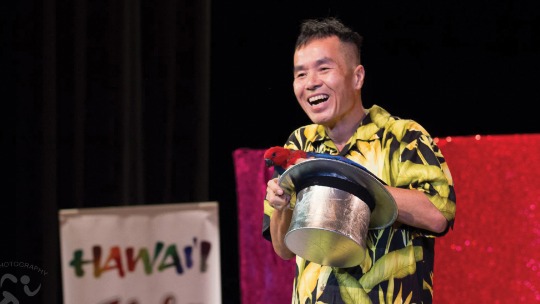 Kelvin Chun finds satisfaction in entertaining people with magic tricks.
His most memorable trip didn't involve much physical exertion. It was performing tricks for Chinese villagers who had never seen magic. "Seeing the sparkle in their eyes when they saw silk scarves appear is all the joy I need," he says.
Chun spent a rewarding career at the Hawaii Department of Education, teaching mathematics, computer science, and multimedia at numerous elementary and high schools. He was also a technology resource teacher for the Campbell Complex, a state computer education specialist, and an instructor at the University of Hawai'i Outreach College. After retiring seven years ago, he sought other purposeful activities. He volunteered as a board member for HawaiiUSA Federal Credit Union. He volunteers and does magic shows in the community, including schools and nursing homes. He's also committed to continuing the lost art of making Filipino bamboo kites and is one of the few kitemakers left in Hawaii.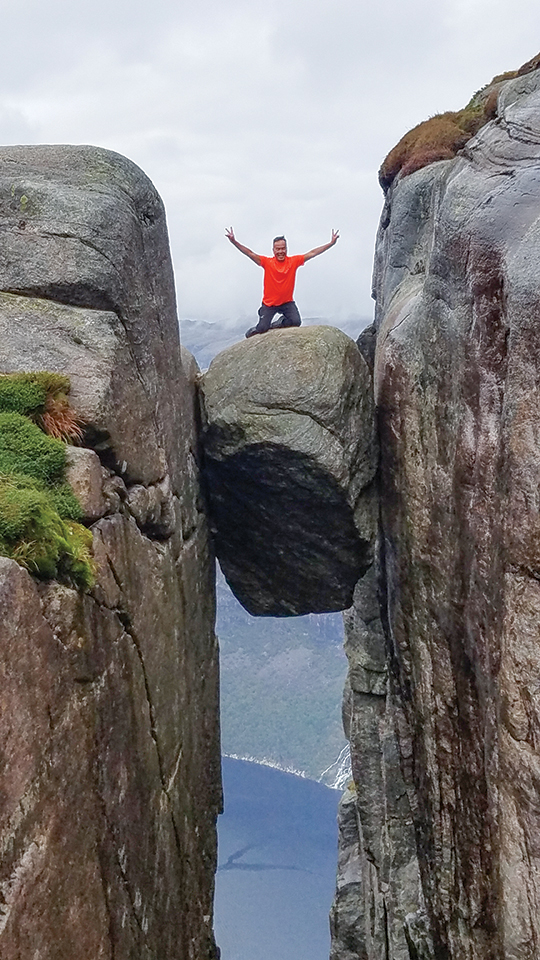 Kjeragbolten in Norway
Chun is eager to travel again after an almost two-year pause because of the pandemic. To prepare for his adventures, he walks four miles every morning, bikes almost every day from his home in Salt Lake to a gym in Kakaako to lift weights, and swims at the local recreation center. And he's been exploring places closer to home, such as hiking the trails at Hawaii Loa Ridge, Kuliouou, and Wiliwilinui. "I often travel with people half my age, so I need to stay fit to keep up with them," he says.
Chun's 2022 plans include returning to Asia, attending a magic convention in Quebec, and continuing to explore Canada's national parks.
"I'm itching to go, but I'm in no rush," he says. "My mother lived to be 86 and many of her relatives were centenarians. Hopefully, I have a lot of time left."
Hero photo: Long-distance hiking at Tour du Mount Blanc in Europe
Photos: Kelvin Chun