Roses are red, violets are blue, not sure what to do for Valentine's Day? We can help you! Valentine's Day is a good opportunity to show the people in your life how much you love and appreciate them. But it doesn't have to be about spending money on fancy dinners, expensive jewelry, designer fashion, boxed candies and chocolates, and flowers. It can be a time to get creative and have fun while doing it on a budget.
Show how much you care with a DIY project that's heartfelt and personalized. Your kids can join the fun, too, and add their creative and loving touches! Check out these kid-friendly Valentine's Day crafts that are the perfect gifts for friends, teachers, and other loved ones.
DIY Valentine's Day window clings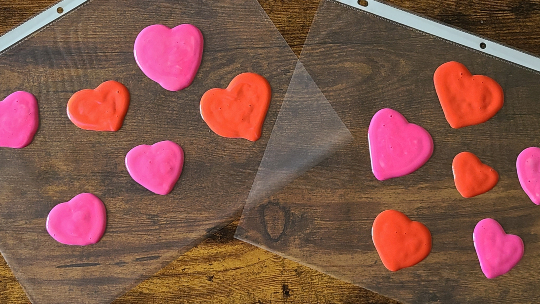 These festive window clings add a little personality to your windows for the holiday! They're easy and inexpensive to make. Plus, your little ones can participate and show off their creativity. Keep them for yourself or give them away as gifts and everyone in your neighborhood will be able to celebrate Valentine's Day in style!
Valentine's Day felt fortune cookies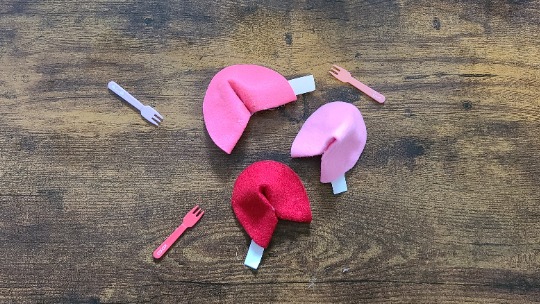 These adorable felt fortune cookies are easy to make, customizable, and budget-friendly. Personalize these little gifts with a heartfelt message as the fortune. You can include them as a surprise in your kids' lunchbox on Valentine's Day or hand them out to classmates!
Love bug fruit cup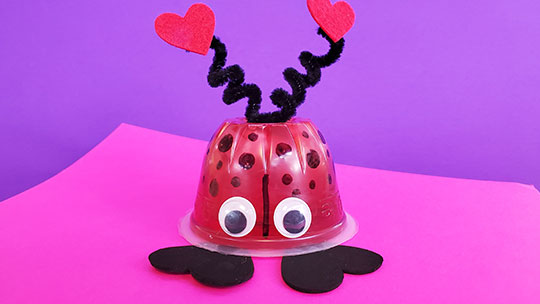 Combine cute and delicious with this love bug fruit cup! Kids' hearts and stomachs will be happy when they receive this fun Valentine's Day gift. Your kids can take them to school if they have a Valentine's Day party.
You-Make-Me-Smile cheese and crackers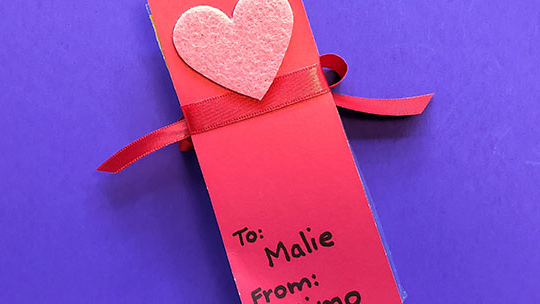 This treat that doubles as a Valentine's Day gift will definitely make your kids and their friends smile! All this fun and easy craft requires is individual packs of cheese and crackers (or a similar type of snack), plus a few supplies that you probably already have.
Valentine felt rose pencil topper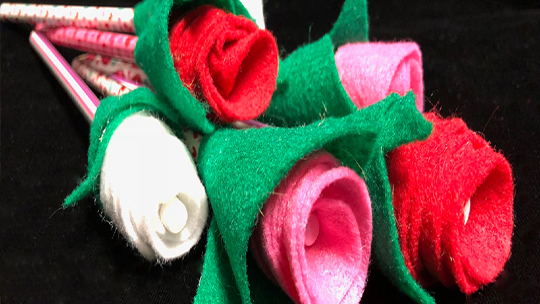 These flowers will last a lot longer than a bouquet! Felt is an inexpensive and versatile material that makes an excellent medium for crafting flowers. Substitute the stem with something useful, like a pencil or pen, and you've got yourself a unique Valentine's favor or gift.
Love bug or puppy love pencil toppers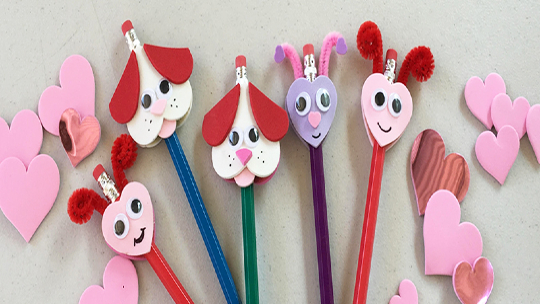 Not into flowers? Try these love bug or puppy love pencil toppers instead for a cute upgrade from your typical pencils. These toppers can also spread a little bit of joy and positive energy among your kids and their friends in the classroom, whether they're working on math problems, drawing in art class, or writing notes!
More crafts
If your creative juices are still flowing and you'd like more craft ideas, check out these projects that you can easily complete any time of the year:
Easy recipes
Take a break from all that crafting and head to the kitchen for a well-deserved snack! Here are some quick and easy recipes that will satisfy your stomach after all your hard work: